Click HERE for press and media inquiries
After Blackouts and Flooding Organizers Renew Call for Gowanus Environmental Special District
July 25, 2019 Gowanus, Brooklyn, New York: Three days of extreme weather causing blackouts and flooding in Gowanus and surrounding communities has highlighted the urgent need for investment in infrastructure to defend against the effects of extreme weather events. Members of the Gowanus Neighborhood Coalition for Justice (GNCJ) renew their call to Mayor DeBlasio and the NYC Department of City Planning to create an Environmental Special District as part of the proposed Gowanus neighborhood rezoning.
GNCJ comments on the Draft Scope of Work for the EIS .
1. The City must ensure that public housing residents benefit from the rezoning. It must address the capital funding gap in the three local New York City Housing Authority (NYCHA) developments: Gowanus Houses, Wyckoff Gardens and Warren Street Houses as well as create increased opportunity for public housing residents.
2. The City must strengthen the "Gowanus Mix" proposal by requiring industrial / art space instead of making it "optional" and must ensure enforcement through community oversight in the form of a nonprofit, mission-driven steward.
3. The City must study the impacts of the neighborhood rezoning on the adjacent Industrial Business Zone (IBZ)
4. The City must expand the proposed Gowanus Special Mixed-Use District to an Environmental Special District that addresses the unique environmental conditions in Gowanus.
Public Meetings and Media Coverage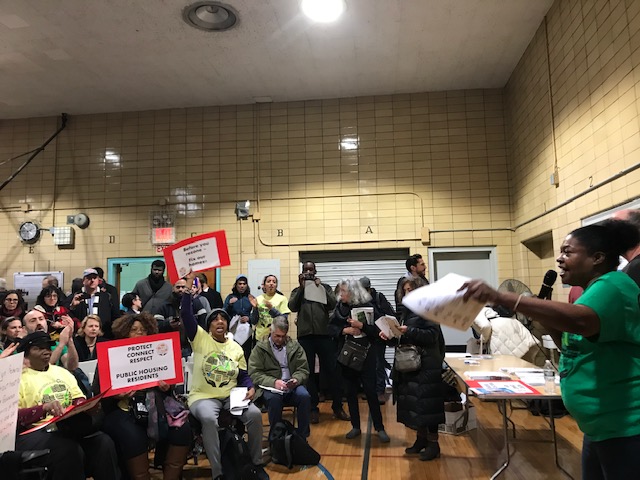 Fed-Up NYCHA Residents & Activists Disrupt Gowanus Rezoning Meeting
'Before You Rezone, Fix Our Homes'
Activists Demand Answers At Gowanus Rezoning Open House